THE MASHĀHĪR AL-ʿULAMĀʾ AL-AMṢĀR OF IBN ḤIBBĀN AL-BUSTĪ (d. 354AH/965CE)
Abstract
This brief article argues that early Muslim scholars correlated knowledge with social endurance. Ibn ḤibbÄn's al-MashÄhÄ«r is a compendium of biographies of men of learning from various regions of early Islam which contained many entries the subjects of which included came literary individuals who took an active role in encouraging the spread of knowledge.  This study attempts to examine the purposes, form, structure, content, total of figures, and basic strategies used in Ibn ḤibbÄn's MashÄhÄ«r along with his general contribution to the science of ḥadÄ«th transmission in the late third and fourth Islamic centuries. It has not, however, produced a comprehensive examination of the wide dimension of prosopographical texts available in Ibn ḤibbÄn's work. The task also involves analysing both theoretical and practical aspects of Ibn ḤibbÄn's method for organizing. In the arrangement of biographical dictionary Ibn ḤibbÄn could reveal the genealogy of authority he had constructed over the path of his career on the following generation of scholars as well as enhancing of important centre of ḥadÄ«th studies during three early centuries. Also, examining representations of towns or regions in the MashÄhÄ«r over a period reveals culturally and historically specific meaning and yields insight into peoples' relationships to political and social realities.

 

Keywords: Ibn ḤibbÄn, MashÄhÄ«r, ḥadÄ«th, biographical dictionary, biography
Downloads
Download data is not yet available.
References
Carl Brockelmann, Geschichte der Arabischen Litteratur, Leiden: Brill, 1937-1942.
Encyclopaedia of Islam 2, ed. C.E. Bosworth, E. Van Donzel, W.P. Heinrichs and G. Lecomte, Leiden: E.J. Brill, 1995.
Franz Rosenthal, A History of Muslim Historiography, Leiden: Brill, 1952.
Fuat Sezgin, Geschichte der Arabischen Schrifftums, I. Leiden: E. J. Brill, 1967.
Ibn al-Jawzi, Talqīḥ al-FuhÅ«m Ahl al-Ä€thÄr fÄ« 'Uyun al-TÄrÄ«kh wa al-Siyar, Cairo: Maktaba al-Ä€dab, 1975.
Ibn ḤibbÄn, al-Majrūḥīn min al-MuḥaddthÄ«n wa al-ḌuÊ¿afÄʾ wa al-MatrÅ«kÄ«n, Aleppo: DÄr al-WaÊ¿y, 1396AH.
Ibn ḤibbÄn, Kitab MashÄhÄ«r Ê¿UlamÄʾ al-Amá¹£Är, ed. Manfred Fleischhammer, Cairo: Matba'a Lajna al-Ta'lif wa al-Tarjama wa al-Nashr, 1960.
Ibn ḤibbÄn, MashÄhÄ«r Ê¿UlamÄʾ al-Amá¹£Är wa A'lam Fuqaha' al-Aqtar, ed. MarzÅ«q Ê¿AlÄ« IbrÄhÄ«m, Beirut: Muassasa al-Kutub al-Thaqafiyya, 1987.
Ibn ḤibbÄn, MashÄhÄ«r Ê¿UlamÄʾ al-Amá¹£Är wa A'lam Fuqaha' al-Aqtar, ed. MajdÄ« b. Mansur, Beirut: DÄr al-Kutub al-'Ilmiyya, 1995.
Ibn ḤibbÄn, á¹¢aḥīḥ Ibn ḤibbÄn bi-TartÄ«b Ibn BalabÄn. Edited by ShuÊ¿ayb al-Arnaʾūṭ. Beirut: Muassasa al-RisÄla, 1993.Ibn Majah, Sunan Ibn MÄjah (ḤÄshiya al-SindÄ«), ed. SidqÄ« JamÄ«l al-Ê¿Atar, Beirut: DÄr al-Fikr, 2003.
Ibn á¹¢alÄḥ, Ê¿UlÅ«m al-ḤadÄ«th, ed. Nur al-DÄ«n Ê¿Itr. Damascus: DÄr al-Fikr, 1986.
Nor, Zulhilmi Mohamed. "Metodologi Al-Hafiz Ibn Al-Salah Dalam Permasalahan Pentashihan Hadis Dan Fenomena Pentashihan Pada Masa Kini." Journal Of Hadith Studies 1, no. 1 (2016).
James Robson, "Ibn ḤibbÄn al-Busti: Die berühmten Traditionarier der islamischen Länder, hrsg. V. M. Fleischhammer (Book Review),†Orientalistische Literaturzeitung, 05/1963, 270.
Michael Chamberlain, Knowledge and Social Practice in Medieval Damascus, 1190-1350, Cambridge University Press, 1994.
Nurit Tsafrir, The History of an Islamic School of Law: The Early Spread of Hanafism, Cambridge, Massachusetts: Harvard University Press, 2004.
Saeko Yazaki, Islamic Mysticism and AbÅ« ṬÄlib al-MakkÄ«: The Role of the Heart, Oxon: Routledge, 2013.
á¹¢Äliḥ al-DÄ«n al-Munajjid, "Kitab MashÄhÄ«r Ê¿UlamÄʾ al-Amá¹£Är li-Muḥammad b. ḤibbÄn al-BustÄ« Ê¿anÄ bi-taṣḥīḥih: M. Fleischammer,†in Majalla MaÊ¿had al-Makhá¹­Å«á¹­at al-Ê¿Arabiyya no. 6, May – Nov 1960, 296-298.
Recep Senturk, Narrative Social Structure: Anatomy of the Ḥadīth Transmission Network 610-1505, Stanford University Press, 2005.
Zayde Antrim, "Ibn Ê¿AsÄkir's Representations of Sham and Damascus in the Introduction to the "TÄrÄ«kh MadÄ«nat Dimashqâ€â€, International Journal of Middle East Studies, vol. 38, no. 1 (Feb., 2006).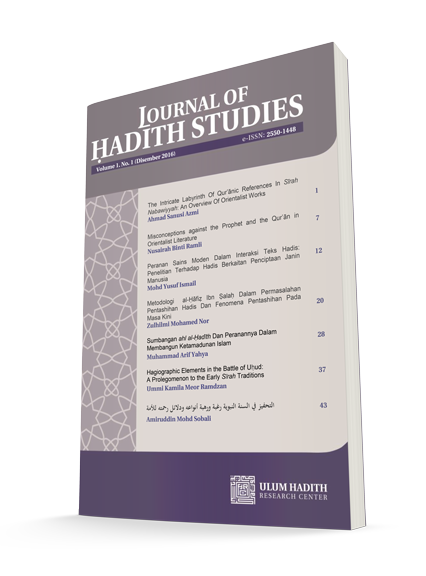 CITATION
DOI: 10.33102/johs.v2i2.19
How to Cite
Muhammad Yusoff, M. F. (2017). THE MASHĀHĪR AL-ʿULAMĀʾ AL-AMṢĀR OF IBN ḤIBBĀN AL-BUSTĪ (d. 354AH/965CE). Journal Of Hadith Studies, 2(2). https://doi.org/10.33102/johs.v2i2.19
The copyright of this article will be vested to author(s) and granted the journal right of first publication with the work simultaneously licensed under the Creative Commons Attribution 4.0 International (CC BY 4.0) license, unless otherwise stated.
Authors are able to enter into separate, additional contractual arrangements for the non-exclusive distribution of the journal's published version of the work (e.g., post it to an institutional repository or publish it in a book), with an acknowledgement of its initial publication in this journal.
Authors are permitted and encouraged to post their work online (e.g., in institutional repositories or on their website) prior to and during the submission process, as it can lead to productive exchanges, as well as earlier and greater citation of published work.