SUMBANGAN AHL AL-HADITH DAN PERANANNYA DALAM MEMBANGUN KETAMADUNAN ISLAM
Abstract
The incident of the death of Caliph Uthman marks a new era in hadith history. The status of hadith and its acceptance amongst Muslim has become a centre of disputation and leads to the development of a new methodology in assessing hadith as invented by ahl al-hadith. This new method has its own roles and contributions in preserving the authenticity and provide a novel approach in vindicating a hadith as a major source of Islamic jurisprudence and its civilisation. This study explore the contribution of hadith as a source of Islamic civilisation, the role of ahl al-hadith in preserving the authenticity of hadith and their methods to substantiate hadith originality. The present study employed textual analysis as its main approach of investigation in this study. The study in its findings confirms the role of hadith and contribution of ahl al-hadith in the development of Islamic civilisation and society.
Downloads
Download data is not yet available.
References
Al-AsbahÄnÄ«, DalÄi Abu Layth al-Khayabadi, Ulum al-Hadith : Asiluha wa Mu'asiruha, cet. ke 4, 2005, Dar al-Syakir.
Fauzi Deraman "Metodologi Muhaddithin†dalam Ishak Suliaman et.al, Autoriti Hadis : Menangani Gerakan Anti Hadis, cet. ke 3, Penerbit Universiti Malaya.
Fauzi Deraman "Autoriti Hadis Dan Penjelasannya†dalam Ishak Suliaman et. al, Autoriti Hadis : Menangani Gerakan Anti Hadis, cet. ke 3, 2012, Penerbit Universiti Malaya.
Ismail bin Umar bin Kathir, Tafsir Ibn Kathir, 2002, Dar Taibah.
Mustafa al-Siba'i, al-Sunnah wa Makanatuha fi al-Tasyri' al-Islami, t.t, Dar al-Warraq.
Udah Mohsin "Beberapa Kekeliruan Tentang Sunnah†dalam Jawiah Dakir, Kewibawaan al-Tafsir dan al-Hadis, cet. ke 2, 1998, Penerbit Universiti Kebangsaan Malaysia.
Yusuf Al-Qaradawi, al-Sunnah Masdaran li al-Ma'rifah wa al-Hadarah, 1998, Dar al-Syuruq.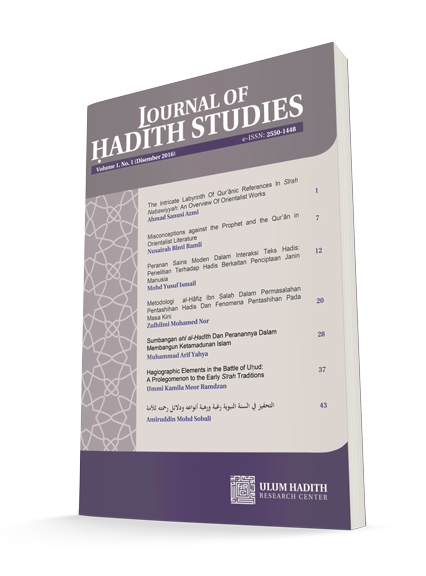 How to Cite
Yahya, M. A. (2016). SUMBANGAN AHL AL-HADITH DAN PERANANNYA DALAM MEMBANGUN KETAMADUNAN ISLAM. Journal Of Hadith Studies, 1(1). https://doi.org/10.33102/johs.v1i1.6
The copyright of this article will be vested to author(s) and granted the journal right of first publication with the work simultaneously licensed under the Creative Commons Attribution 4.0 International (CC BY 4.0) license, unless otherwise stated.
Authors are able to enter into separate, additional contractual arrangements for the non-exclusive distribution of the journal's published version of the work (e.g., post it to an institutional repository or publish it in a book), with an acknowledgement of its initial publication in this journal.
Authors are permitted and encouraged to post their work online (e.g., in institutional repositories or on their website) prior to and during the submission process, as it can lead to productive exchanges, as well as earlier and greater citation of published work.