تقديم شعب الملايو المسلم في السلطة السياسية في ماليزيا تحليل وتطبيق آراء ابن خلدون في أحاديث القرشية في الإمامة (Prioritization of Malay Muslim in Political Power in Malaysia: Analysis and Application of Ibn Khaldun's Views on the Hadith That Require Quraysh as the Ruler)
Abstract
Malay is the original inhabitant of Malaysia. They are the majority that holds the biggest influence of the country's governance. They submitted to Islam hundred years ago and they are very polite and peaceful which makes them connected to Islam. Even though some of the secularism values have influenced the Malay due to the colonization from the Western, this ideology is different to those that occur in Muslim in Turkey and Tunisia. Islam has a high priority in the country's legislation which state that Islam as the formal religion of the country but other religions can be freely and peacefully practice in any other part of the country. Realistically, as far as Malaysia governance is concern, there are several legitimate hadith that can be used as references. There are many hadith states that the descendant of the Quraysh is one of the terms for becoming a ruler. Ibn Khaldun elaborated this term with "Asobiyyah Ghalibah" which means the capability to gain loyalty from citizens with various ethnic and races to ensure stability which can only be achieved by the ruling of the Quraysh; the most strongest and respected tribe during that time. "Assobiyyah Ghalibah" is the reason for the term of Quraysh descendent which if the reason is no longer exist therefore it is not obligated to practice. Thus, in addition to the strong submission to Islam and their qualification to rule, two important concepts of "Assobiyyah Ghalibah†that owned by Malay is the recognition and the compliance from other ethnic that lives in the country and also the ability to create stability since they are the majority group and they hold greater influence in the administration power. 54.56% Malaysian population is Malay and they represent 90% of Muslim population in Malaysia. Therefore, the decision to prioritize Malay's Muslim to hold the political power will ensure the position of Islam and the Muslim's interest in the country.

 

Keywords: Malay, Quraysh, Ibn Khaldun, Assobiyyah Ghalibah, Malaysia Politic. 

 

الملخص

يعتبر شعب الملايو السكان الأصليين ÙÙŠ ماليزيا حيث إنهم الأغلبية التي لها تأثير كبير ÙÙŠ الحكم، وقد اعتنقوا الإسلام قبل مئات السنين، ومن سماتهم الÙطرية أنهم مهذبون ومسالمون مما جعلهم يتقيدون بالدين بسلاسة، وعلى الرغم من بعض القيم العلمانية التي أثرت على الملايو بسبب الاستعمار لكنها تختل٠عن تلك العلمانية المتطرÙØ© التي حدثت ÙÙŠ تركيا وتونس، ويتمتع الإسلام بمكانة عالية ÙÙŠ البلاد حيث ينص الدستور أنه دين رسمي ولكن باقي الديانات الأخرى يمكن أن تمارس بحرية وسلمية، وقد وردت الأحاديث الشريÙØ© التي يمكن استخدامها كمراجع ÙÙŠ الواقع السياسي المحلي حيث تنص أن نسب قريش شرط من شروط الإمامة، هذا، وقد شرح ابن خلدون هذه الأحاديث بالعصبية أو العصبية الغالبة التي تعني القدرة على كسب الولاء من الرعية مع اختلا٠أعراقهم وأجناسهم ÙÙŠ ضمان الاستقرار الذي لا يمكن تحقيقه إلا من خلال حكم قريش، وهي أقوى قبيلة ÙÙŠ ذلك الوقت، Ùالعصبية الغالبة سبب ÙÙŠ اشتراط قريش حيث ينتهي هذا الشرط إذا كانت العلة غير متواÙرة، ÙبالإضاÙØ© إلى تمسك شعب الملايو بالدين وتأهيلهم للقيادة يتمثل عنصران مهمان للعصبية الغالبة التي يملكها الملايو، وهما اعترا٠الأعراق المختلÙØ© التي تعيش ÙÙŠ البلاد بسطوة وقوة شعب الملايو عليهم، والقدرة على تحقيق الأمن والاستقرار، باعتبارهم الأغلبية بنسبة 54.56Ùª من مجموع عدد السكان الذي يمثل 90Ùª من السكان المسلمين، ولهم Ù†Ùوذ أكبر ÙÙŠ إدارة الدولة، وكذلك ينبغي أن يعلم أن تقديم شعب الملايو المسلم ÙÙŠ السلطة السياسية يضمن علوّ مكانة الإسلام ومصالح  أتباعه ÙÙŠ هذه البلاد.

 

الكلمات المÙتاحية: الملايو، قريش، ابن خلدون، عصبية غالبة، السياسة الماليزية.
Downloads
Download data is not yet available.
References
القرآن الكريم، مجمع الملك Ùهد لطباعة المصح٠الشريÙØŒ المدينة المنورة، 1427ﻫ-2006Ù….
ابن أبي شيبة، عبد الله بن محمد، المصن٠ÙÙŠ الأحاديث والآثار، بيروت، دار الÙكر، د.Ø·ØŒ د.ت.
ابن حجر العسقلاني، أحمد بن علي، Ùتح الباري شرح صحيح البخاري، ترقيم وتبويب: محمد Ùؤاد عبد الباقي، تخريج وتصحيح: محب الدين الخطيب، القاهرة، دار الريان للتراث، د. Ø·. 1407ﻫ-1986Ù….
ابن خلدون، عبد الرحمن بن محمد بن محمد، مقدمة كتاب العبر وديوان المبتدأ والخبر ÙÙŠ معرÙØ© أيام العرب والعجم والبربر ومن عاصرهم من ذوي السلطان الأكبر، بيروت، دار الكتب العلمية، Ø·1ØŒ 1413ﻫ-1993Ù….
ابن عاشور، محمد بن الطاهر، التحرير والتنوير، تونس، الدار التونسية للنشر، د.ط، 1405ﻫ-1984م.
ابن منظور، محمد بن مكرم بن علي، لسان العرب، القاهرة، دار المعارÙØŒ د.Ø·ØŒ د.ت.
أحمد بن محمد بن حنبل الشيباني، المسند، تحقيق: شعيب الأرنؤوط وعادل مرشد، إشراÙ: د. عبد الله بن عبد المحسن التركي، بيروت: مؤسسة الرسالة، Ø·1ØŒ 1421ﻫ-2001 Ù….
أحمد مختار عمر، معجم اللغة العربية المعاصرة، بيروت، عالم الكتب، ط1، 1429ﻫ-2008م.
البخاري، محمد بن إسماعيل الجعÙÙŠØŒ الجامع المسند الصحيح المختصر من أمور رسول الله ï² ÙˆØ³Ù†Ù†Ù‡ وأيامه، اعتناء: حسان عبد المنان، الرياض، بيت الأÙكار الدولية، د.Ø·ØŒ 1425ﻫ-2005Ù….
الترمذي، محمد بن عيسى، الجامع المختصر من السنن عن رسول الله ومعرÙØ© الصحيح والمعلول وما عليه العمل، تحقيق: د. مصطÙÙ‰ محمد حسين الذهبي، القاهرة، دار الحديث، Ø·1ØŒ 1419ﻫ-1999Ù….
الجويني، عبد الملك بن عبد الله بن يوسÙØŒ الإرشاد ÙÙŠ قواعد الأدلة ÙÙŠ أصول الاعتقاد، ضبط وتحقيق: د. أحمد عبد الرحيم السايح وتوÙيق علي وهبة، بيروت، مكتبة الثقاÙØ© الدينية، Ø·1ØŒ 1430ﻫ -2009Ù….
الجويني، عبد الملك بن عبد الله بن يوسÙØŒ غياث الأمم ÙÙŠ تياث الظلم، تحقيق ودراسة: د. مصطÙÙ‰ حلمي ود. Ùؤاد عبد المنعم، الإسكندرية، دار الدعوة، د.Ø·ØŒ د.ت.
الحاكم، محمد بن عبد الله النيسابوري، المستدرك على الصحيحين، بيروت، دار المعرÙØ© د.Ø·ØŒ 1418ﻫ-1998Ù….
حسن اسماعيل، الدلالات الحضارية ÙÙŠ لغة المقدمة عند ابن خلدون، بيروت، دار الÙارابي، Ø·1ØŒ 1415ﻫ-1994Ù….
الزركلي، خير الدين، الأعلام: قاموس تراجم لأشهر الرجال والنساء من العرب والمستعربين والمستشرقين، بيروت، دار العلم للملايين، ط16، 1426ﻫ -2005م.
شعبان عبد العاطي عطية، وأحمد حامد حسين، وجمال مراد حلمي، وعبد العزيز النجار، المعجم الوسيط، القاهرة، مكتبة الشروق الدولية، ط4، 1425ﻫ-2004م.
عبد الحكيم عبد الرحمن أسعد السعدي، مسالك العلة عند الأصوليين، بيروت، دار البشائر الإسلامية، ط2، 1431ﻫ-2000م.
عبد العزيز بن مرزوق الطريÙÙŠØŒ التÙسير والبيان لأحكام القرآن، الرياض، مكتبة دار المنهاج، Ø·1ØŒ 1438ﻫ-2016Ù….
عبد الغني مغربي، الÙكر الإجتماعي عند ابن خلدون، ترجمة: محمد الشري٠بن دالي حسين، الجزائر، ديوان المطبوعات الجامعية، د.Ø·ØŒ 1409ﻫ-1988Ù….
القراÙÙŠØŒ أحمد بن إدريس، شرح تنقيح الأصول ÙÙŠ اختصار المحصول ÙÙŠ الأصول، بيروت، دار الÙكر، د.Ø·ØŒ 1424ﻫ-2004Ù….
المباركÙوري، محمد بن عبد الرحمن بن عبد الرحيم، تحÙØ© الأحوذي شرح جامع الترمذي، بيروت، دار الكتب العلمية، د.Ø·ØŒ د.ت.
محمد عابد الجابري، Ùكر ابن خلدون العصبية والدولة معالم نظرية خلدونية ÙÙŠ التاريخ الإسلامي، بيروت، مركز دراسات الوحدة العربية، Ø·6ØŒ 1415ﻫ-1994Ù….
مسلم بن الحجاج النيسابوري، المسند الصحيح المختصر من السنن بنقل العدل عن العدل إلى رسول الله ï²ØŒ اعتناء: حسن عبد المنان، الرياض، بيت الأÙكار الدولية، د.Ø·ØŒ 1419Ù‡-1998Ù….
نعيم هدهود حسين موسى، Ùقه العلامة ابن خلدون ÙÙŠ الخلاÙØ© والإمامة، نابلس، مؤتمر ابن خلدون علامة الشرق والغرب، بحث مقدم للمؤتمر، 1433ﻫ-2012Ù….
الهيثمي، علي بن أبي بكر، مجمع الزوائد ومنبع الÙوائد، بيروت، دار الÙكر، د.Ø·ØŒ 1412ﻫ-1991Ù….
Abdull Rahman Mahmood, Kamaruddin Hj. Salleh, Ahmad Sunawari Long & Faudzinaim Badaruddin, Penerimaan Bukan Islam Terhadap Proses Islamisasi Di Malaysia, Jurnal Hadhari, Universiti Kebangsaan Malaysia (UKM), Bil. 2, 2009.
Ahmad Idham, Partai Politik Islam: Masalah Dan Tantangan Partai Politik Islam Pada Saat Ini, Tugasan Tahun Akhir, Universiti Al Azhar Indonesia, Jakarta, 2015.
Ahmad Munawar Ismail, Zakaria Stapa & Siti Aishah Suhaimi, Islam Dan Pembentukan Jati Diri Bangsa Melayu, Jurnal Hadhari, Edisi Khas, Universiti Kebangsaan Malaysia (UKM), Bangi, 2012.
Mashitah Ibrahim, Munshi Abdullah dan Bible Melayu, Sinar Harian, 1 Jun 2012.
Ramlah Adam, Kemelut Politik Semenanjung Tanah Melayu, Penentangan Orang Melayu Terhadap Malayan Union 1946-1948, Edisi 1, Universiti Malaya (UM), Kuala Lumpur, 1998.
Elly Herlyana, Gerakan Islam Politik: Angan-Angan Persatuan Dalam Keterpecahan, Jurnal Sosio-Religia, Bil. 7, American Institute for Indonesian Studies (AIFIS), Jakarta, 2008.
Fatini Yaacob, Natrah 1937-2009: Cinta, Rusuhan, Air Mata, Edisi 1, Universiti Teknologi Malaysia (UTM), Skudai, 2010.
Kamaruddin Salleh, Wacana Nasionalisme Melayu Dan Islam Di Malaysia, 'Nasionalisme Melayu' (UMNO) Dan Islam, Universiti kebangsaan Malaysia (UKM), Edisi 1, Bangi, 2008.
Kassim Thukiman & Hamidah Abdul Rahman, Hubungan Etnik Di Malaysia: Perspektif Teori Dan Praktik, Hubungan Etnik Pada Zaman Kolonial, Edisi 1, Universiti Teknologi Malaysia (UTM), Skudai, 2009.
Kim Keum Hyun, Konsep Jadi Orang Dalam Masyarakat Melayu: Satu Kajian Kes Di Negeri Terengganu, Tesis Master, Universiti Malaya, 1996.
Mashitah Sulaiman, Islam Dan Transformasi Sosial Masyarakat Melayu Malaysia: Suatu Kajian Eksploratori, Prosiding International Conference On Sosial Science Research, Kolej Universiti Islam Antarabangsa Selangor (KUIS), Kajang, 2013.
Mohamed Anwar Omar Din, Asal-Usul Orang Melayu: Menulis Semula Sejarahnya, Jurnal Melayu, Bil. 7, Universiti Kebangsaan Malaysia (UKM), Bangi, 2011.
Nor Saadah Musa & Walid Mohd Said, Impak Negatif Islam liberal Terhadap Pengkajian Hukum, E-Prosiding Muzakarah Fiqh & International Fiqh Conference, Kolej Universiti Islam Antarabangsa Selangor (KUIS), Kajang, 2014.
Prof. Dr. Abd Jalil bin Borham, Islam Di Nusantara, Kertas Kerja Kolokium Islam Pahang 'Meraikan Ilmu', Muzium Sultan Abu Bakar, Pekan, 2014.
Thock Ker Pong, Hegemoni Politik Melayu Dan Respons Masyarakat Cina Malaysia: Satu Kajian Tentang Peranan Persatuan Cina (Huatuan), Tesis PhD., Universiti Malaya (UM), 2004.
Wan Mohd Nor Wan Daud, Pembangunan Di Malaysia: Ke Arah Satu Kefahaman Baru Yang Lebih Sempurna, Institut Antarabangsa Pemikiran Dan tamadun Islam (ISTAC), Edisi 1, Kuala Lumpur, 2001.
http://arkib.harakahdaily.net/arkibharakah/index.php/arkib/berita/lama/2014/4/58906/parti-islam-indonesia-didesak-bergabung.html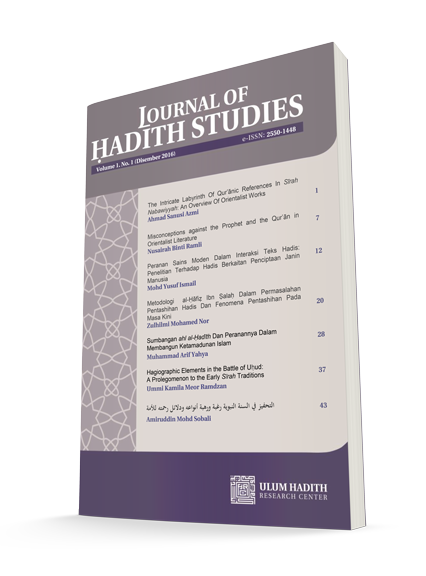 How to Cite
Abu Bakar, A. I., & Shalash, A. (2017). تقديم شعب الملايو المسلم في السلطة السياسية في ماليزيا تحليل وتطبيق آراء ابن خلدون في أحاديث القرشية في الإمامة (Prioritization of Malay Muslim in Political Power in Malaysia: Analysis and Application of Ibn Khaldun's Views on the Hadith That Require Quraysh as the Ruler). Journal Of Hadith Studies, 2(2). https://doi.org/10.33102/johs.v2i2.22
The copyright of this article will be vested to author(s) and granted the journal right of first publication with the work simultaneously licensed under the Creative Commons Attribution 4.0 International (CC BY 4.0) license, unless otherwise stated.
Authors are able to enter into separate, additional contractual arrangements for the non-exclusive distribution of the journal's published version of the work (e.g., post it to an institutional repository or publish it in a book), with an acknowledgement of its initial publication in this journal.
Authors are permitted and encouraged to post their work online (e.g., in institutional repositories or on their website) prior to and during the submission process, as it can lead to productive exchanges, as well as earlier and greater citation of published work.