المنهج الوسط في تطبيق السنة النبوية والدعوة إليها
Method of Applying the Sunnah in The Life of a Muslim
Abstract
The aim of this study is to highlight the proper method of applying the Sunnah in the life of a Muslim. And the original to address the talk in such a serious issue of the availability of eligibility note and action, but may start in his speech from the sense of duty and not out of a sense of eligibility, because of the perceived need to address this issue. The reality of the Sunnah in this time among many Muslims between excessive and negligent, and between strictness and indulgence and even neglegance, some of them are ignorant of the Sunnah and does not know its value in the establishment of the religion, and some of them adhering to the Sunnah and apply in his life and even calls others to it with his personal understanding and style without applying the Sunnah and its teachings according to its guidance, both in calling for it and guiding it in all other matters of life. In this article, we investigate the most prominent mistakes of Muslims in general and their call in particular for the application of the Prophetic Sunnah and the call to it by highlighting the middle approach in the application of the Sunnah.
Downloads
Download data is not yet available.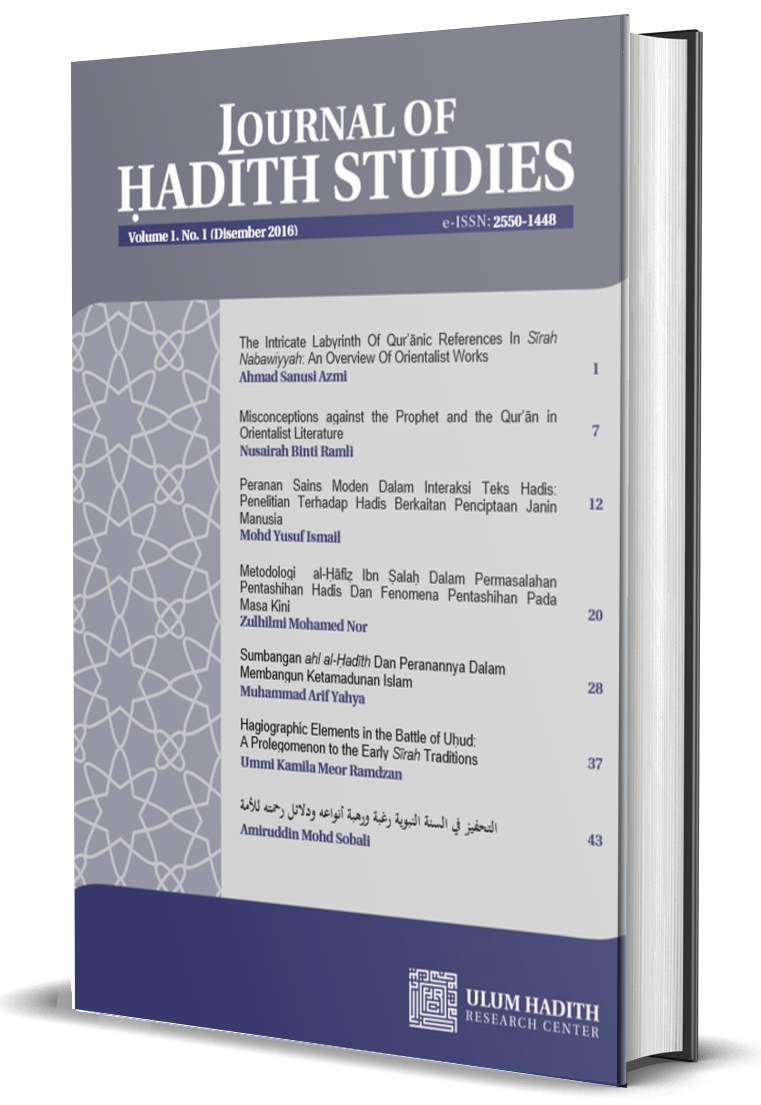 How to Cite
Yu Long, M., & Syed Hassan, S. N. (2019). المنهج الوسط في تطبيق السنة النبوية والدعوة إليها: Method of Applying the Sunnah in The Life of a Muslim. Journal Of Hadith Studies, 4(2), 67-76. https://doi.org/10.33102/johs.v4i2.86
Copyright (c) 2019 Ma Yu Long, Syed Najihuddin Syed Hassan
This work is licensed under a Creative Commons Attribution 4.0 International License.
The copyright of this article will be vested to author(s) and granted the journal right of first publication with the work simultaneously licensed under the Creative Commons Attribution 4.0 International (CC BY 4.0) license, unless otherwise stated.
Authors are able to enter into separate, additional contractual arrangements for the non-exclusive distribution of the journal's published version of the work (e.g., post it to an institutional repository or publish it in a book), with an acknowledgement of its initial publication in this journal.
Authors are permitted and encouraged to post their work online (e.g., in institutional repositories or on their website) prior to and during the submission process, as it can lead to productive exchanges, as well as earlier and greater citation of published work.